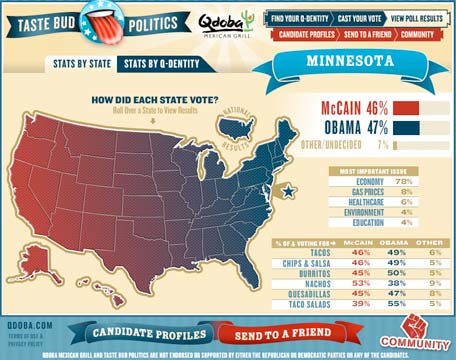 Barack Obama is a taco salad. Oh Yeah, well … John McCain is a nacho.
This according to a new web strategy by Qdoba. Tastebud politics is a great new viral tool by the folks at Qdoba. After seeing this, I wanted to send it to all my friends, because after all if you can talk to your friends about what's going on in politics and not end up debating about healthcare or the economy its a good thing, right? Now Qdoba turns that debate into nachos and quesadillas.
Remember back in the day (1997) when we were all a little less net savvy and we would get the email telling us about how Bill Gates would give you $1000 for sending that email to as many people as possible. Even though I am proud to say that I didn't bite on that one, enough people did to make it a classic example of how a message can spread virally.
Many people took notice of how effective this strategy would work in the land of the internet. Many others trying to duplicate this viral strategy sent out all sorts of bogus messages telling of great news or tall tales, and luckily today we have snopes.com to determine which of these is true.
Web powerhouses such as hotmail.com, myspace and facebook have grown dramatically from viral methods. Much like a virus spreads, one person tells two, those two tell two or three more and so on, before long without an FCC regulated medium, hundreds if not thousands (or millions in some cases) have heard the message.