There comes a time when your friends are suddenly very absent. They don't respond to your texts or answer your phone calls, and when you finally do see them they tell you that they have not slept much in the last couple of weeks. "I got up at 3 a.m. last night, and the night before that I was awake until 6," they will say. You could be out on a romantic date at a fancy restaurant and your significant other will be gazing sweetly into your eyes one minute, and the next minute his eyes divert behind you and he is bursting into spontaneous cheering or a stream of profanities. Be alert: these are the symptoms of someone who has been bitten by the FIFA World Cup bug. It is a plague, and the only cure is to let the inflicted be and hope their favorite team wins (or at least is not beat by someone worse).
As contagious as it is, some of us are just immune to it, but that does not mean that we cannot still enjoy something about this month of soccer (or is it football?). From a marketing perspective, we have noticed the craziness that has been the logo explosion of each World Cup. You cannot get through a huge event such as the World Cup without at least seeing the logo in a mall, on the internet, while you're watching tv, on someone's shirt, or on a box of McDonald's french fries! (Seriously, McDonald's has an entire FIFA-based game you can play if you buy their french fries!)
In an article posted on the McDonald's newsroom webpage was a quote from Steve Easterbrook, Senior Executive VP and Global Chief Brand Officer at McD's, where he explained, "This is the first time in brand history we're changing the packaging design of one of our customers' most favourite menu items on a global scale, and what better reason than to share in the excitement of one of the most prestigious sporting events in the world." They're pretty serious about this World Cup thing and are taking the image up to a whole new level. Simply put, it's hard to not run into some sort of World Cup marketing scheme this month.
So now that you agree with me that the World Cup isn't all about soccer, (it's actually more about marketing, right?) I want to take you on a trip down memory lane of the last 10 years of the FIFA World Cup logo. You have to admit, this is the real plague that strikes more of the population, even if you aren't a football fan.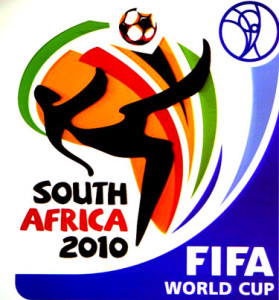 And last, but not least, this year's vibrant logo for the vibrant country of Brazil: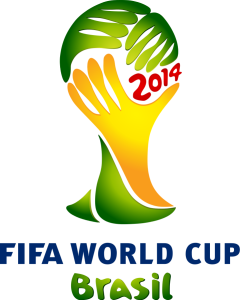 Do you remember any of these? There is strength in a powerful image, especially when it is embedded in your mind without you even consciously realizing it. Perhaps now you will notice just how much you actually look at a World Cup endorsement. You can't fight the plague!